So Long, Goodbye
Canadian Penny

Listen to the single
Click to play now!
---

Purchase Vintage Rhythm through:

CD Baby
McNally Robinson (online and in store)
The Winnipeg Folk Festival Store (in store only)


Nominated for the 2011 Western Canadian Music Award
"Blues Recording of The Year"

Press play to hear songs from the new CD "Vintage Rhythm".

---
Reviews and Articles
Winnipeg Free Press - Vintage Rhythm Review
---
Shows
Date
Day
Time
Venue
City
Nov 14
2014
Fri
9:30pm
Highway 75 Blues Bar
Winnipeg MB.
Nov 15
2014
Sat
9:30pm
Highway 75 Blues Bar
Winnipeg MB.
---
Videos on YouTube:
From the Lyric Theatre:
Pretty Baby
Jumpin' At The Woodside
Crosscut Saw
A Man Needs His Lovin'
Have You Ever Been Mistreated
From the Winnipeg Art Gallery:
The Hustle Is On
Caledonia
Knock Me Out

---
Band Members:
Brent Parkin - Guitar, Vocals
Ken McMahon - Drums
Kerry Hannah - Bass

Other Recent Members:
Kasa - Upright Bass
Gilles Fournier - Upright Bass
Jeff Smook - Electric Bass
Richard Moody - Violin
Gord Kidder - Harmonica
Graham Guest - Piano
Janice Finlay - Tenor Sax
Ken Gold - Sax
Dave Lawton - Trumpet
---
Posters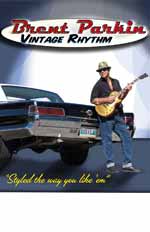 (Right Click - Save Target As)

Download "Vintage Rhythm" gig poster PDF-14mg
300dpi 11x17

Download "Vintage Rhythm" gig poster JPEG-782k
300dpi 11x17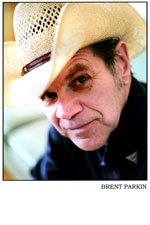 (Right Click - Save Target As)

Download colour gig picture JPEG-5mg
Download colour gig picture PDF-25mg
300dpi 11x17

Download black and white gig picture JPEG-5mg
Download black and white gig picture PDF-25mg
300dpi 11x17




Download Brent Parkin Bio - PDF

Download Brent Parkin Bio - DOC

Download Brent Parkin Festival Magazine Bio - DOC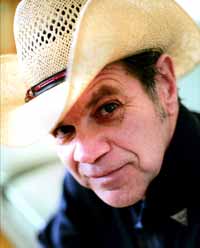 Bio

Brent Parkin is a veteran of the Winnipeg music scene and has been playing for audiences in Winnipeg and across Canada for well over 40 years.
Brent's music is a mix of Chicago style Blues, Swing, Roots music with some Country and Roots Rock and Roll thrown in for good measure. He is comfortable playing with his band whether it be a 3 piece or up to 7 piece, solo or duo.
Check out YouTube for videos including a performance with the Winnipeg Jazz Orchestra 20 piece band or his solo version of Kingfish Blues.
In the early 70's he co-founded several popular blues bands including the popular band Houndog in 1976.
In the last 43 years he has been part of the backup bands for such legends as Bo Diddley, Gatemouth Brown, Otis Rush, Billy Boy Arnold, Johnnie Johnson and Jimmy T99 Nelson and many more. As well as opening shows for such greats as James Cotton, Johnny Winter, Buddy Guy, John Prine just to name a few. A career highlight was sharing the tour bus and stage with BB King and his band as his opening act on a Western Canadian tour in 1983.
Brent has played many bars and nightclubs over the years. Some of the famous and legendary night clubs in Canada include:
Yale Hotel - Vancouver
King Eddy - Calgary
Blues on Whyte - Edmonton
Buds on Broadway - Saskatoon
Windsor Hotel - Winnipeg
Ambassador Hotel - Edmonton
Silver Dollar - Toronto

Brent has also played many concerts and festivals over the years including:
Winnipeg Folk Festival
Edmonton Folk Festival
Vancouver Folk Festival
Saskatoon Jazz Festival
Winnipeg Jazz Festival
Harbourfront Blues Festival Toronto
Winnipeg Blues and BBQ Festival
Blues Brews and BBQ Kitchener
Labatt's Blues Festival Edmonton

Numerous appearances at the Winnipeg Folk Festival also made it possible for Brent to play and share many workshop stages with a lot of great artists over the years. This experience has come in handy when doing shows in schools and such.
Over the years he has appeared on many TV and radio shows. Some of the most memorable were 90 Minutes Live CBC with Peter Gzowski. Jimmy King Presents CTV's Live at the Warehouse.
His original songs "Goodbye Canadian Penny" and "Brown Water Blues" were also featured on CBC Radio Up To Speed Winnipeg and CBC National Radio As It Happens in 2012 - 2013.
In 2008 Brent appeared in the highly successful play Mesa for the Prairie Theatre Exchange in Winnipeg, providing the musical landscape, singing and acting. A few years later he repeated that role for a version of Mesa by Theatre North West in Prince George BC.
A few honours have come Brent's way over the years:
1993 Juno Award for his performance on Saturday Night Blues CBC Compilation.
1996 & 1999 Maple Blues Award Nominations
2013 & 2014 Maple Blues Award Nominations for the Blues With A Feeling Award (Lifetime Achievement)
2011 Western Canada Music Award Nomination in the Blues Category for Brent Parkin Vintage Rhythm

Quotes:
It is the great Amos Garrett who without hesitation calls Parkin "a guitarist's guitarist" It is Tom Lavin of Powder Blues who refers to Brent as "Canada's Duke Robillard" and it is Downchild's Don Walsh who states, "Brent Parkin is one of a handful of Canadian artists who has been keeping this music alive and well in our country for almost as long as we have."

"Brent is one of this countries best blues guitarists." Peter North CKUA Radio - Music Director - Salmon Arm Roots and Blues Festival

"One of my favourite musicians is Winnipeg bluesman Brent Parkin. Why? First of all, he's a rock solid player who says more with less. Tasty solos coupled with soulful singing, but wait, there's more! Parkin can also craft songs about what's on people's minds, a kind of community blues player if you will."
Kinsey Posen - CBC Music Producer

Brent Parkin Anthology:
Brent Parkin - "Vintage Rhythm" - 2010
Various Artists - "Front Porch Roots Revue" - 2010
Brent Parkin - "Treasure by the Long River" - 1997
Brent Parkin - "Wang Dang Doodle" - Compilation 1996
Brent Parkin - "Saturday Night Blues" - CBC Compilation 1993
Brent Parkin and The Stingers - "Beep Beep" - 1989
Houndog - "Every Dog Has It's Day" - 1977






In 2007 CPR helped save my life.
Anyone interested in learning CPR is encouraged to contact your local Red Cross.